What is IP Video Surveillance?
IP video surveillance devices use the same communication medium and protocol that most computer networks use, that being Cat5 cabling and the IP protocol, which is the same protocol the 'internet' uses. A video codec in the form of a bitstream is encapsulated into IP packets and sent down this medium to an NVR (Network Video Recorder) to record the video and to Users who wish to monitor this video stream.
An IP based surveillance system also allows for better centralized management of the entire CCTV network and the versatility to integrate access control and building management into one unified security solution.
Remote Camera Configuration
The ability to remotely configure an IP camera will both reduce your total cost of ownership and camera system down time.
Remote ⁄ off-site access
IP cameras can be configured to be accessible over WAN environments, utilizing the low bandwidth sub-stream of an IP camera.
Intelligent features
Most IP cameras incorporate a web server functionality that allows the camera to be accessed in a similar way to how you connect to a web site. IP cameras incorporate flexible options to optimize bandwidth usage, limiting the video streaming along the network to a fixed bit rate to ensure core business data is never compromised.
When video analytics were introduced several years ago, their performance in the field often did not match manufacturers' claims. Today, however, a number of proven analytics are widely used. These advanced applications represent a competitive advantage for organizations and are increasingly considered essential for critical infrastructure security.
Building a long-term roadmap for your security system
The convergence of voice, video and data won't happen overnight. The investment in legacy CCTV systems and the resources involved in replacing them will, in many cases, dictate a phased migration to hybrid video configurations that can serve as a bridge to the seemingly inevitable all-IP future.
To determine the best path to IP video for your organization , take the same approach you would with any technology infrastructure. Develop a long-term road map with a phased implementation that takes into account your surveillance infrastructure, future video requirements and budgetary realities.
(Source: Sony Security)
The diagram below illustrates some of the benefits of IP cameras, the following paragraphs elaborate on some of these points.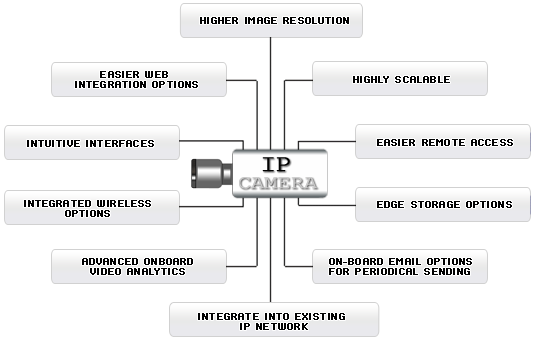 Image Resolution
The following list outlines some of the benefits of higher resolution images.
Have a clearer image of an incident
Better aid in the identification of a suspect
Ability to zoom in on an area of interest
Could aid in more successful prosecutions
Great promotional tool (Web sites, niteclubs)
Resolution vs Picture Quality
In regard to IP video it should be noted that high image resolution does not always equate better image quality. Frequently we see examples of video captured at high Megapixel resolutions displaying inferior picture quality to lower rated megapixel IP cameras. The combination of the quality of the manufactures video codec, CMOS chip, DSP and bitrate play a cumulative role in image quality. Our recommendation is, observe each resolution and determine for yourself which is better quality.
Benefits of IP video technologies
Very high resolution options
Cameras can be used for edge storage
Onboard video analytics processing
Multi-stream options give you more versatility
Highly scalable
Allows for centralized management of entire CCTV network
Integrated wireless options
Drawbacks of IP video
Large HDD storage requires
Can be more expensive to implement
Motion can be less fluid than analogue or HD-SDI solutions
Network Integration / Scalability
If you have an existing computer network infrastructure, which most organizations now do, an IP based CCTV system can be integrated into this existing network. This often eliminates the need to run extra cables, because cameras can be plugged into a free Ethernet port/panel. This can significantly reduce installation costs when you need to add extra cameras.
Viewing Options
Because IP cameras have integrated web servers that use TCP/IP protocol, many of the technologies used on the internet can be incorporated into intuitive dynamic interfaces.
Transitional Upgrading
Upgrading to an IP based CCTV system can be done in stages. Analogue cameras can be integrated into a fully digital IP based systems via the use of an encoder, or you could start replacing your analogue cameras with IP cameras that have analogue outputs. Then at a later stage you could replace your DVR with an NVR attached to your network. Adding an IP camera is like adding an additional computer, just plug it into an existing free LAN port.
Edge Recording Options
Many IP cameras now have the ability to record footage locally within the camera itself using storage card options. This type of storage is often referred to as Edge Recording. Although limited this storage can be used for motion or alarm recording.
Video Analytics
Most IP cameras have the ability to perform some form of video analytics. There are three broad classes of video analytics available today.
Diagnostic analytics alert system administrators to blocked camera views or scene changes that may be indicative of tampering or obstructions. If a camera is dislodged from its housing, spray painted, moved or blocked, for example, the analytics will transmit an alarm and allow security personnel to rectify the problem with minimal delay.
The second class of analytics is security-related. This configuration can automatically alert security staff to suspicious events, such as a perimeter breach, an unattended bag or a person loitering around an ATM.
The third category is behavioral analytics, such as people counting or queue length monitoring, which provide organizations with valuable operational intelligence and metrics that marketing teams or senior management can use to increase sales and improve customer service.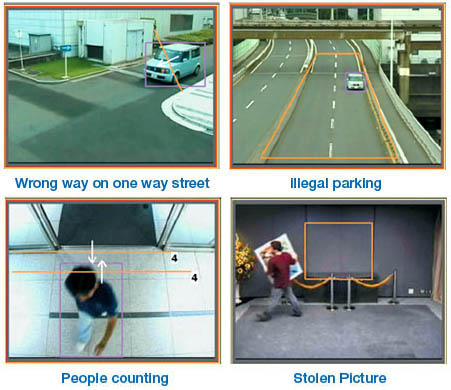 Motion Detection
Detect if a targeted object is moved ( Picked up )
People counting ( How many people went through a door )
Detect illegal parking
Detect wrong way traffic on one way street
Detect Sound
Alarm triggers can now be used to trigger a voice alert
Analytic video meta data is also used by 3rd parties to track sporting events (i.e. football)